MVHR Systems
Suitable for both new and existing homes and apartments, mechanical ventilation with heat recovery is a whole-house recovery ventilation system. While continuously supplying and extracting air from the house, MVHR also recovers and recycles heat that would otherwise be lost (extracted to the outside).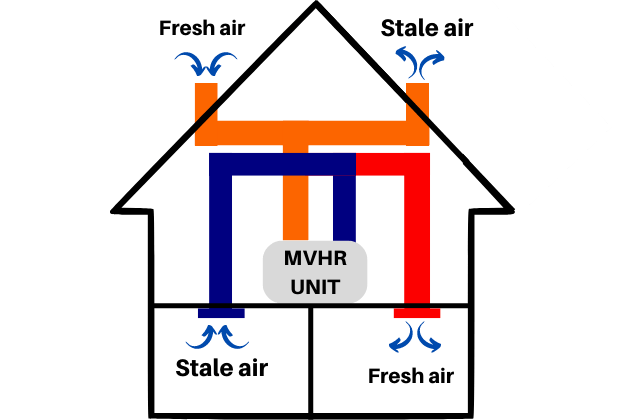 Covering Bury, Ramsbottom and north Manchester

As we move towards a more sustainable future, it's important that we all do our bit to reduce our carbon footprint. One way to do this is to install a Mechanical Ventilation with Heat Recovery system (MVHR) in our homes. This highly efficient system helps to regulate the temperature and improve the air quality inside our homes, whilst also reducing our energy consumption.
AB Plumbing & Maintenance are experts in MVHR installations, and we're proud to offer our services throughout Bury, Ramsbottom and north Manchester. So if you're looking for ways to make your home more sustainable, get in touch with us today. We'll be happy to help you take those first steps towards a greener future.

Axia MVHR Installers
Here at AB Plumbing & Maintenance, we install AXIA MVHR units.
The equipment is often mounted in the attic or a cabinet, and rigid ducting distributes clean, filtered air to the habitable areas while removing stale, polluted air from the "wet" rooms. The system is balanced using supply and extract diffusers that are mounted on the ceilings.
Before the air is transported to the inhabited rooms, the device features a polymer heat exchanger to temper the incoming air. Depending on whether it is a cross-flow or counter-flow exchanger, the efficiency can range from 70 to 95 percent heat recovery, with counter-flow exchangers being the most efficient. The 95 percent heat exchanger is the ideal choice because current building regulations demand higher thermal efficiency.
The system can be programmed to accelerate when moisture is produced by cooking or bathing;
Manually using one or more switches
Automatically, typically using humidity or other sensors

Benefits of MVHR
There are many benefits of mechanical ventilation with heat recovery to homeowners and occupants such as:
Maintains a Good Level of Indoor Air Quality
A heat recovery ventilation system makes sure that during the day, contaminants, moisture, and airborne particles are removed and replaced with cleaner air. All air is conducted through MVHR filters, which may be customised to meet your demands for indoor air quality by offering dust, pollen, and pollution options. This helps to guarantee that occupants have access to good indoor air quality.
The supply air filters safeguard your indoor air quality while the extract air filter guards the motors against a buildup of dust, dirt, and grease!

Reduce Your Heating Bill
As MVHR recovers heat that would otherwise be lost or evacuated to the outside, it is an energy-efficient ventilation option for homes. Depending on the unit model, the heat exchanger inside the unit can recover and reuse up to 95 per cent of the heat from the extracted air into the supply air, letting you lower the thermostat and your energy costs at the same time!

Comfortable Indoor Environment
We all know a stuffy and humid environment, especially at night, isn't something that is enjoyable. Constantly moving air, extracting moisture, and removing particles that may cause allergies and irritations helps bring comfort. An efficient and constant flow of air can also contribute to a cooling effect during the hotter summer months.

Contact Us
If you'd like to find out more about our MVHR installations throughout Bury, Ramsbottom and north Manchester give us a call today on 01204 888255 or drop us a message on our easy-to-use contact form and we will get back to you as soon as possible.